A Complete Guide On How to Improve Your Analytical Skills
Decision-making has become one of the most important qualities/skills companies look for while recruiting employees. It is important to choose between a wide range of options and to select the option that suits our needs. How to make wise decisions? What are the parameters that help us analyze a problem?
In this article, we shall discuss the most important life skill called "Analytical skills", which helps you solve problems with ease. Thinking analytically will help you solve complex problems and make better decisions, both personally and professionally.
Analytical skills — a brief introduction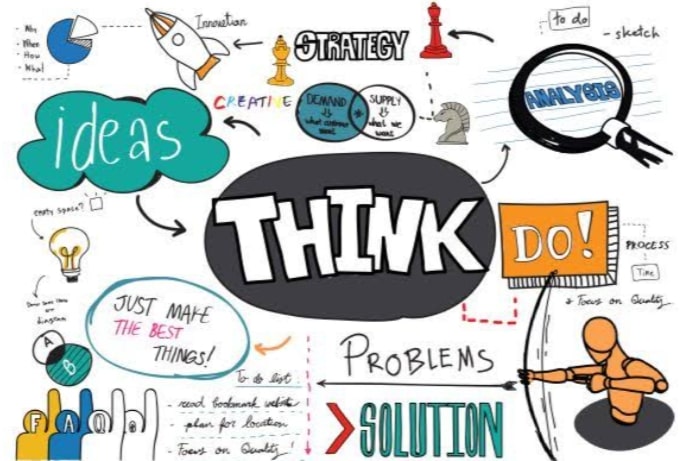 Analytical skill refers to the ability of problem-solving and decision-making by collecting and analyzing information. This self-thought-life skill is composed of critical thinking, visualization, and the ability to gather and process information that our brain receives.
As a result, one can improve analytical skills to process the problem and investigate the related facts to arrive at a logical solution. Simple and more complex problems can be solved by detecting patterns and integrating them with collected data.
Create Content for diverse topics with The Best Content Writing Course 
Why should one improve analytical skills?
Nowadays, companies incorporate dedicated rounds to check the analytical skills of applicants, and screening is based on the performance in this round. So analytical round has a major impact on employee selections. To develop potential solutions and to increase the success rate of the company, one has to improve analytical skills. Solving problems in an efficient and timely manner with the help of proper research and analysis can help to raise the standard of companies and increase the value of the employee in that company.
Types of analytical skills
Research
Organization
Communication
Creativity
Critical thinking
Data analysis
Research
Collecting and compiling relevant information is the first step to analyze a problem. To find out the effective solution, analytical skills like researching must be carried out with patience. Be sure to spend time learning about the problem before solving it.
Organizational skill
Organizational skills aim at combining your mental capacity, strength, time, and energy to reach the desired output. Some organizational skills include team management, goal setting, keeping deadlines, and making schedules.
Communication
Communication skills are considered the most basic skills that anyone ought to possess. Conveying information and solutions with clarity requires communication. Sharing the data gathered through research and analysis is achieved using communication skills. Types of Communication skills include verbal, nonverbal, and written communication.
Creativity
The ability to think out of the box is called creative thinking, and it is appreciated in workplaces too. Employers consider employees with a creative mind so that they come up with a new approach to solving problems and bring out non-obvious outputs.
Critical thinking
Analyzing an issue with the help of evidence or data is called critical thinking. It is mostly carried out without influence. I.e. from personal experience, feeling, and wholly focuses on factual data. This skill allows you to decide logically at its best.
Data analysis
Analyzing patterns from large volumes of data is important in almost every discipline. Understanding statistics and quantitative analysis are mandatory in the areas of technical trading, finance, and quant-investing. Types of data analysis include business analysis, policy analysis, industry research, and many more.
Jobs that require analytical skills
Software developer
Technical writer
Chemical Engineer
Accountant
Statistician
Data analyst
Data Engineer
Quantitative analyst
Criminologists
Logistics manager
Legal secretary
Business analysis
Learn Web development in-depth with The Best Digital Marketing Master Course 
Analytical reasoning test
Analytical reasoning tests are used to test a person's ability to study data and find patterns to make inferences. It helps to examine an individual's ability to solve problems by using logic. The Test comprises verbal reasoning, nonverbal reasoning, inductive and deductive reasoning. These are timed tests you don't have to work long to find the answers. Recruiters use them to select candidates for roles requiring data analysis, quick thinking, and problem-solving. Analytical tests act as a filter to select critical thinkers based on their performances.
To test your analytical skill, you might be required to take tests that contain a sequence of events. You ought to put them in ordered series, look for inconsistencies or differences, use critical thinking to read an essay, and answer the questions asked. The common method followed while testing analytical skills is to dismantle a problem and find out a suitable solution for it.
Some examples of good analytical skills
Here are a few examples of analytical skills and their applications in the work environment.
Programming
Code programs to find expected output.
Reporting
Writing the report for an event with effectiveness
Process
Creating a workflow or a procedure to carry out a process.
Collecting
Information collection and extract required data from it to solve that problem.
Problem handling
In the field of engineering fixing bugs in the code to improve the efficiency of code and to avoid errors while running the program.
You may also be interested in our article on great interpersonal skills 
How do you identify an analytically strong person?
Raise questions
An analytical person always starts with interrogations before brainstorming the answers. This goes with the famous saying, "it's better to judge a man with his questions than his answers."
Are liable to context
On that note, analytic decision-makers can consider the proof in the surroundings at hand. They can assess and separate critical facts.
Do not rely on evidence alone
Facts and pieces of evidence may take you to accurate solutions. But these alone do not gain people's trust. So analytically strong people incorporate their communication and collaborative skills to make a strong picture of their ideas.
Enjoy challenges
Analytical people enjoy constructive debates and challenges. They believe that true innovation lies between inside-out and outside approach.
No concept of failure
Great leaders and overnight success share one common attribute. They never stopped trying, regardless of the number of times they failed. According to them, there is always learning from good and bad results. The meaning of success according to them is "Rethinking."
You evolve as a person every single day.
Analytical thinkers wake up every day, excited to have every other probability to sharpen their wondering ability. They cause aside from the shackles of their ego and wear an outfit of modesty because they are aware of they still have a lot to learn.
You are fascinated by how matters work.
Analyzers have an unquenchable thirst for knowledge. Their pals may accuse them of being bookworms, information junkies, or academic addicts; but they're ok with that because they wouldn't exchange their childlike curiosity for whatever in the world.
Proven ways to improve analytical skills
Like any other skill, analytical skills are inborn. But not innate to everybody. To gain skills, you must have a strong sense of drive, interest, and perseverance. Forming analytical skills requires consistency and application. So here are some simple but helpful ways to improve analytical skills.
Always ask questions
According to Araceli Carmago, a neuroscientist, "the more curious we are about a subject, the more it engages our cognitive functions like memory and attention." Asking questions will help you develop your retention, memory, and problem-solving skills related to a subject.
Think before you decide
Before making decisions, make sure you rationalize your views. Analyze the pros and cons of the decision. Asking for an expert opinion and carrying out researches will bring you clarity. Learning from day-to-day experiences and applying them to problems will improve analytical skills.
Brain games to improve analytical skills
There are a lot of apps available on the internet to train your brain. Starting with simple brain games like chess, Sudoku, Crosswords will help to think better. So games can add fun and improve analytical skills. Some popular apps for brain games are Personal zen, Luminosity, Brian out, Elevate, Memorado, etc.
Reading Books
Books are the powerhouses of knowledge. Reading books can also improve analytical skills by keeping your mind active. Active reading involves reading aloud, raising questions on the related subject, and highlighting useful information. Reading with engagement and concentration will help you improve analytical skills.
Learn to observe
In this busy world, rather than engaging with works 24/7, try observing things happening around you. Find your interests. Observing people around will help you understand their situations, and therefore you become a better analyzer.
Solving math problems
Working out math problems is the most common way to improve analytical skills. Problems based on algebra, long division, and calculus help you develop reasoning skills and therefore improve analytical skills too. These problems are structured in a way that we are given information, and we ought to use that information or formula to solve those problems.
Subscribe to useful knowledge bases
The more you gain knowledge, the more you get to know the world. There are many media to gain knowledge. Magazines and newspapers are packed with world news. Free educational classes, lectures, conferences, and academic talks help you to improve analytical skills.
Make connections
Everything around us is connected, and it's necessary to understand the connection between plants, animals, food sources. This makes up our food chain. Discovering connections help to develop and improve analytical skills.
Be open to new responsibilities
Applying your analytical skills by taking new responsibilities in your academic, professional, and personal life will improve your analytical skills further. In your professional life, applying for more challenging positions will help you sharpen the skills you gained.
Be a leader
Helping others to gain kills will increase your confidence. Being a mentor gives you a chance to share your experiences and gives exposure to new and better strategies. Working with a team improves analytical skills, communication, and collaborative skills.
Physical activities
Exercising can be a useful aid in the development of your analytical questioning skills. According to Dr. Scott McGinnis, a coach in neurology at Harvard Medical School, the kind of exercising you pick out to do is totally up to you. However, taking a tai chi or Zumba classification might be a specific idea. You will choose to memorize steps and sequences as nicely as focus on executing them in a managed manner, successfully challenging both your analytical thinking capabilities and your bodily stamina.
Journaling
Journalism helps you reflect on your day–it forces you to analyze your movements and research from any triumphs or mistakes. With so many happening in our expert and private lives, it's effortless to get caught up in thoughts and feel defeated. However, when you write things down, you have a tendency to the core of attention on logic alternatively than on emotion, helping you decorate your wondering capabilities and give a boost to in the future.
Top 10 books to improve analytical skills
This book comprises 50 brain training puzzles to improve analytical skills. The logical puzzles and exercises given to solve in this book will clear your mind, aids in effective decision making, and improve focus. You will be able to come up with an appropriate solution to problems through logical thinking.
2. Critical thinking by Christ Lewis
The 50 strategies suggested in this book to improve analytical skills and critical thinking, mainly focus on developing a hypothesis and testing that hypothesis against known facts. Some brilliant ideas discussed in this book to improve analytical skills are
Acknowledge your emotions.
Develop a standard to get rid of narrow-mindedness and egoistic thinking.
Start writing journals.
Respect and value people's ideas.
Analyze various points of view.
More courses to explore at IIM SKILLS 
3. Karen's Riddles for adults by Karen J. Bun
For someone who is looking for challenging riddles and to improve analytical skills, this book suits. Starting from some simple brain teasers, this book will brainstorm you to find solutions for complex riddles.
The sections are as follows:
The first section contains brain teasers, a warm-up section.
The second section is packed with riddles to test your ability to read and find answers to questions being asked.
The third section included difficult riddles to apply your problem-solving skills.
The fourth section is a simple fun-filled section containing some "what am I?" riddles.
The last section has some comedic riddles to make you smile.
4. Logic Liftoff, Grades 4-6 by Bonnie Risby, Dean Crawford
Logic Liftoff is the 2nd in a three-book series designed to sharpen children's logical questioning skills. Through the workout routines in this book, kids examine the equal logical wondering strategies that have been used with the aid of magnificent thinkers. Challenging, entertaining, and instructional, this book presents an exercise in defining relationships, finishing sequences, solving analogies, deductive reasoning, inferencing, and reasoning with syllogisms. Students begin the experience with the first e-book in this series, Logic Countdown.
5. Mental models by Peter Hollins
The book is designed for your thinking with powerful tools.
The key takeaways in this book include:
You will learn to think better with concepts like a circle of competence, thought experiment, first and second-order thinking, probabilistic thinking, inversion, Occam's, and Hanlon's Razor are discussed. Basic mental model concepts like minimizing regrets, follow the evidence, reversible and irreversible decisions, urgent tasks, and peer review are discussed in this book. Mental models provide 30 thinking tools that separate the average from exceptional.
6. Logitica by Neelabh Kumar
An exclusive book is written completely for 9+-year-olds. This book teaches differ6 approach to mathematical problems and explains logical concepts interestingly and entertainingly.
The book contains 7 chapters with 200+ problems. The three-step approach called Challenge – strategy – answer, helps in the logic building. To improve the analytical skills of your kids and excel in any field, this book is highly recommended.
7. The Art of Thinking in Systems written by  Steven Schuster
The Art Of Thinking In Systems gives global structures ideas with real-life examples making it without problems understandable and applicable. Systems questioning opens new and interesting methods to re-invigorate your world view. It enriches your integral thinking skill, examining ability, clears your vision, makes you extra logical and rational – just to mention a few benefits. Systems thinking's intention is no longer to overcomplicate your ideas but to locate better solutions to your problems. The book additionally helps you to see through the hidden pathways of current politics, economics, and education changes.
8. How to Reassess Your Chess by Jeremy Silman
Chess gives beneficial knowledge and perception that can't be placed in any different book. By explaining the thinking tactics that go into a master's wish of the move, the author presents a machine of the idea that makes foremost methods appear clear, logical, and at times even obvious. Silman indicates how to dissect a position, understand its character elements and subsequently find out the cross that conforms to the wants of that particular situation.
This book is a guide on how to train your talent to work even more for you. The concepts discussed in this book help you to learn how to discover the actual troubles that need a solution, so you don't waste your time in making and strive to remedy imaginary problems.
Increase your intellectual toughness, really helpful and productive thought. If you want to
Improve your crucial questioning skills,
Develop a greater perception of intricate issues and concepts,
And how to put them into practice, then this e-book is for you.
10. Brain Power by Karl Albrecht
The e-book is packed with practical exercises, charming illustrations, games, and puzzles to enhance your intellectual capabilities. This book explains the six functional skills you desire to have and emerge as an extra adaptable and revolutionary thinker.
The areas covered in this book are:
Build your intellectual strength.
Improve your memory.
Solve problems.
Make preferences more effectively.
Applying analytical skills in interviews
Interviews testing your analytical abilities are also known as behavioral interviews. In such interviews, you can anticipate being requested about your past analytical ride and situations the place you successfully recognized and solved a problem.
You need to keep these things in thought before you show up for interviews.
An IDEAL approach
Every interviewer is going to ask you to give an explanation for your previous experiences at problem-solving.
There are many strategies of presenting an accurate rationalization for your example through preparing it to step via step.
Identify the root of the problem
Define the problem
Examine or discover distinct ways to remedy it
Act on making plans to clear up it
Look for likely consequences
STAR approach
The Star method makes the development of your story quicker with much fewer pointless details.
A situation or the problem
Task or the motion is taken by you
Approach or the way you solved it
The result or the consequence
Always keep choices ready
Be organized to be cross-questioned. Your solution or even solutions which have worked and given effective effects may also now not be ordinary by way of the employers and they may also ask how in some other way to you may want to have solved it.
It is simply that they are testing your logical thinking competencies and seeing how you react to being rejected. So, how analytical are you? Most of us think analytical skills are just based on numerical skills.
But this article gives you a wider view and reveals various dimensions of analytical abilities. This article explains, what analytical skills refer to, types and skills associated with analytical skills, various jobs that are based on your analytical ability, books, and games that help to improve analytical skills, various strategies to implement, and certain approaches while attending an interview.
Practice and repetition will surely bring out the brilliant analyzer in you.!